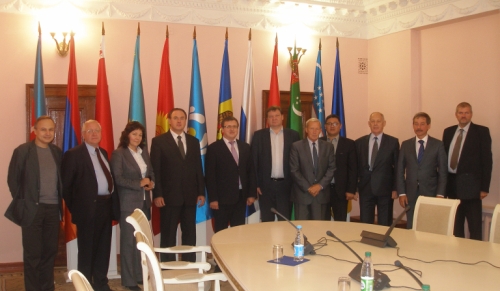 On 29 - 30 September the Executive Committee held the Thirteenth Meeting of the Intergovernmental Council of the CIS on Scientific, Technical and Innovative Cooperation in Minsk.
The focus of attention at the meeting was implementation of the Intergovernmental Programme for Innovative Cooperation of CIS Member States until 2020.  NRU HSE, the chief developer of the Programme, was represented by Vladimir Korolev, Deputy Director of IPAMM NRU HSE.
3 October  2014
On 29 May, a meeting was held at the Russian Chamber of Commerce and Industry of the Chamber's Scientific and Technical Innovation and High Technologies Committee. As part of the meeting, which took place in the form of a round table, the participants discussed problems related to increasing demand for innovations in Russia.
31 May  2013
From 15 to 17 June, Athens was the host of the international theoretical and practical conference – Innovation in the Wider Black Sea Region: Organisation and Principal Lines of Innovative Activity. During the event the CIS Interstate Programme of Innovation Cooperation for the period until 2020 was officially presented. 
21 June  2011